Welcome to the Official Wiki, Navezgane Survivalists
The Official 7 Days to Die guide written and maintained by players just like you!
7 Days to Die is a new survival horde crafting game from The Fun Pimps:
With nearly 10 million copies sold, 7 Days to Die has defined the survival genre, with unrivaled crafting and world-building content. Set in a brutally unforgiving post-apocalyptic world overrun by the undead, 7 Days to Die is an open-world game that is a unique combination of first person shooter, survival horror, tower defense, and role-playing games. It presents combat, crafting, looting, mining, exploration, and character growth, in a way that has seen a rapturous response from fans worldwide. Play the definitive zombie survival sandbox RPG that came first. Navezgane awaits! (7DaysToDie.com)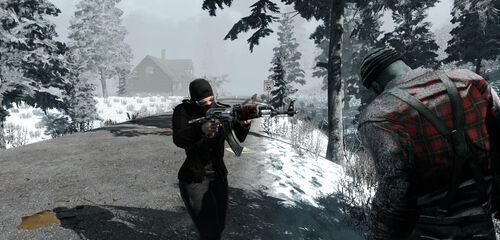 Image from 7 Days to Die Blog, developers diary

Game features

Game mechanics

Featured videos

Game News

Wiki News
Greetings all Survivalists. The Fun Pimps has released Alpha 20 Stable! If you opted into the Alpha 20 Experimental be sure to go back the the Betas tab where you selected Alpha 20 Experimental and change it to None. Doing this will give you the most current patches related to the Stable version of the game.
Players can help us out by creating a Fandom account and adding new content not yet found in the Wiki here. Correcting outdated info and stats is a big help. We are working to get the older Points of Interest to have current pictures. All Zombies have updated images for the current Alpha as seen here List of Zombies. Any little bit people can do or contribute to the Wiki is a big help. If you love the game as we do, take a second to update now and again. It goes a long way.
If any Admins from other 7 Days To Die Wiki are reading this message, consider messaging me to gather our images for sharing through this method: [1] You all can then take advantage of our already captured images of Zombies as well as POI imagery. Shared Repository is the the way to go to launch your 7DTD Wiki to the most current models. You must be an Admin or you can apply to adopt a neglected 7DTD language Wiki here: [2]
Also we have worked with another member to open a new 7 Days To Die Wiki in Chinese. You can find it here: [3]

Community