Description
[
]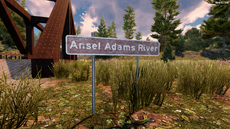 The Ansel Adams River is currently the only river in Navezgane. It enters the map in the northwest near Perishton until it splits into two, one arm going down the west side of Navezgane, and the other continuing east. The east branch splits into Spillway Lake before passing through the Forest then turning south and passing through the Burnt Forest and the Desert.
Despite being a river, it is relatively shallow in most places. It is an excellent source of Water.
Bridges
[
]
The Bridges this River come into contact with are the following:
Images
[
]
A sign that says Ansel Adams River next to a bridge on Highway 73.

Where the Ansel Adams River splits just south of Perishton.