Apply your gamestage here:
Current game stage:
1
Description
[
]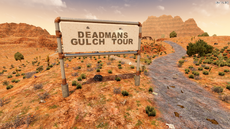 Broken Asphalt Bridge 1 is a structure that crosses the canyon gap located in the Desert Biome near the Deadmans Gulch Tour area. Broken Asphalt Bridge 1 is completely destroyed and unpassable by normal methods. There is only one type of bridge like this in Navezgane. This bridge is very close by to the Canyon Gift Shop. To see an undamaged version see Asphalt Bridge 1.
Broken Asphalt Bridge 1 has a drop that would most likely kill the player if they are to fall regardless of fall damage Mods equipped.
[

]
There are 10 wooden bridges:
688 N, 756 E
763 N, 661 E
180 N, 816 E
712 N, 494 E
890 N, 92 W
1502 N, 1759 W
939 N, 1486 W
227 N, 1456 W
514 S, 1308 W
1130 S, 1193 W
One broken wooden bridge:
Two asphalt bridges:
333 S, 836 E
1659 S, 1154 W
A broken asphalt bridge:
And a concrete bridge: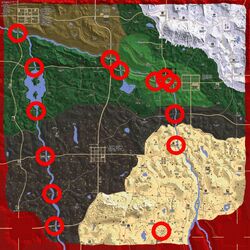 Images
[
]
See Also
[
]
See all Bridges here: Bridge