Description
[
]
The Character Menu enables players to manage their character's personal Clothing and inventory. Status effects are displayed on the right side of the window.
To access the Character Menu, the player can use a keyboard shortcut (bound to "B" key by default) or from other menus, by selecting the character icon

at the top.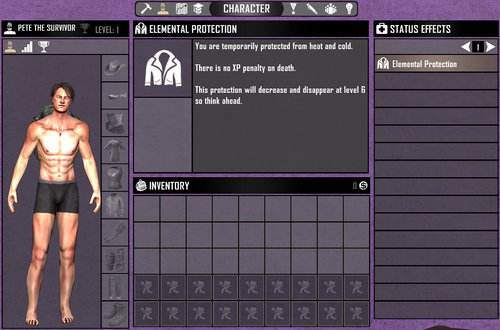 Components
[
]
The character menu has five major components: On the left side is a display of the character's general Appearance. In the center is the Examine space, where information is displayed when that item is selected, the Player Stats are displayed on the upper-right corner and below that is space to list Active Effects such as dysentery or leg splint. Below the Examine space is the Inventory space, which represents the player's backpack.
When accessing the crafting menu and before selecting any items or recipes, the Examine space contains the following verbiage:
[LEFT CLICK] TO INSPECT AN ITEM, RECIPE OR ACTIVE EFFECT
[LEFT CLICK] HOLD AND DRAG TO TAKE A STACK
[LEFT CLICK] TO DROP OR SWAP A STACK
[RIGHT CLICK] HOLD AND DRAG TO TAKE A HALF STACK
[RIGHT CLICK] TO DROP ONE ITEM AT A TIME
Usage
[
]
From either of the inventory spaces, the player can move clothes and/or armor to the Appearance space, making that item "active." Shift-clicking will rapidly move an article of clothing or armor directly to the appropriate slot on the left. It is also possible to select items in inventory and scrap them directly from this menu.
See Also
[
]