Description
[
]
Commercial Strip 1 or commercial_strip_01 consists of 3 names locations all combined into the same structure.
There is an upstairs living quarters.
There are 3 rooftop tiers that can be accessed.
From left to right they are:
Badboy Thrift
[
]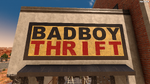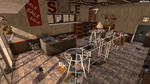 The Badboy Thrift section can be accessed from the front door. There is a large hole in the ceiling and the rooftop above the Badboy Thrift shop can be accessed from the ladder outside. The area inside is very small. There is a Cash Register, Washing Machine and luggage to loot inside. A restroom is located in the back with a hole in the wall to access the Checks Cashed location next door.
Checks Cashed
[
]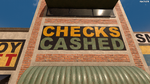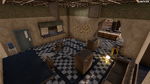 The Checks Cashed is in the center between the other two stores. It cannot be accessed thru the front door and the player will have to enter thru the Z Smoke Store. There is access in the back of the store to the 2nd floor living quarters area.
Z Smoke Store
[
]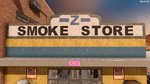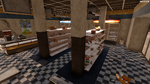 The Z Smoke Store has a slightly larger than the other stores. There is a Cash Register, and many piles of food to loot. The Z Smoke Store has an awning and a drive thru area that says Beer & Liquor
[

]
The only Commercial Strip 1 is in the Desert at:
Images
[
]