Apply your gamestage here:
Current game stage:
1
Description
[
]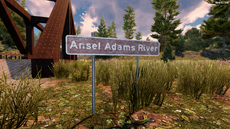 Concrete Bridge is the most sturdy bridge the Navezgane Park and passes over the Ansel Adam River in a location where two Biomes meet. This bridge is complete and extremely sturdy. There is only one Concrete Bridge in Navezgane. There is also no Broken version of this Concrete Bridge.
Concrete Bridge is safe to walk across and poses no threat to safety as this Concrete Bridge is not very high and there is water below. There may be Zombies lying dormant waiting for Survivors to walk across it.
[

]
There are 10 wooden bridges:
688 N, 756 E
763 N, 661 E
180 N, 816 E
712 N, 494 E
890 N, 92 W
1502 N, 1759 W
939 N, 1486 W
227 N, 1456 W
514 S, 1308 W
1130 S, 1193 W
One broken wooden bridge:
Two asphalt bridges:
333 S, 836 E
1659 S, 1154 W
And a concrete bridge: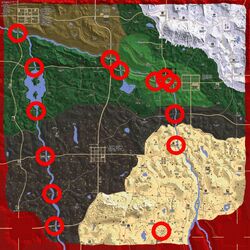 Images
[
]
See Also
[
]
See all Bridges here: Bridge