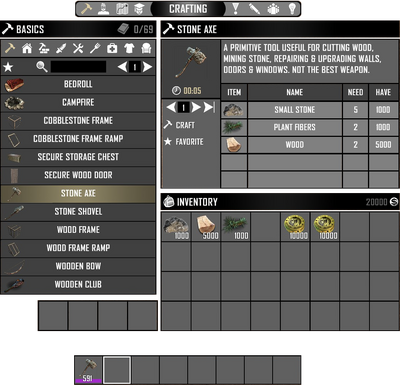 Description
[
]
The Crafting Menu enables the player to view a list of all available recipes and enables the player to craft items. The Crafting Menu also serves as the inventory management window, allowing players to view their gathered resources located in their inventory and to organize their Toolbelt.
Time passes at a normal speed when viewing the Crafting Menu, while the player's actions are limited. Therefore, caution is advised when opening the menu in potentially dangerous areas.
By default, the hotkey for accessing the Crafting Menu is the Tab key, but it also can be switched to by clicking the

hammer icon at the top bar when in other menus. Closing the Crafting Menu is accomplished via the same dafault Tab key.
Appearance
[
]
The crafting menu has five major components:
The Menu Top Bar located at the top displaying additional icons as shortcuts to other menus.
A Recipes pane on the left, displaying a list of available craftable items, subdivided by the crafting categories.
A Crafting Queue pane in the lower left corner, showing all crafting and scrapping currently in progress.
An Inspect pane on the upper right, providing information about and options for interaction with the currently selected item.
An Inventory pane in the lower right corner, which represents the player's inventory located in their backpack.
Additionally, the player's Toolbelt is displayed as usual at the bottom of the screen. The Toolbelt can be organized from this screen.
When accessing the crafting menu and before selecting any items or recipes, the Inspect pane reads the following:
[LEFT CLICK] TO INSPECT AN ITEM, RECIPE OR ACTIVE EFFECT
[LEFT CLICK] HOLD AND DRAG TO TAKE A STACK
[LEFT CLICK] TO DROP OR SWAP A STACK
[RIGHT CLICK] HOLD AND DRAG TO TAKE A HALF STACK
[RIGHT CLICK] TO DROP ONE ITEM AT A TIME
Notes
[
]
See also
[
]