m

m (Linked to Inventory (Removed Feature).)

Line 1:
Line 1:
 

{{Stub}}

 

{{Stub}}

 
+

''"Inventory" redirects here. If you want to know about the feature removed in Alpha 13, visit [[Inventory (Removed Feature)]].''

 

__TOC__

 

__TOC__

 

==Description==

 

==Description==
---
Revision as of 13:04, 5 March 2017
Some items' or groups' chance to drop changes according to the player's gamestage. Here you can see those values for any gamestage you want using the little box below. Just type the gamestage you want in the box and press the Apply!-button. The values should change immediately, if the chance is different.
Current game stage: 1
This article is a stub. For more information on what defines a stub, see Template:Stub.
You can help 7 Days to Die Wiki by expanding it.

"Inventory" redirects here. If you want to know about the feature removed in Alpha 13, visit Inventory (Removed Feature).
Description[]
The Crafting Menu enables a player to craft items. From the crafting menu, players are able to select constituent part of a recipe and if they have all remaining parts or ingredients of the recipe, the player can craft the item.
To access the crafting menu, the player can use a keyboard shortcut (bound to "I" key by default) or from other menus, by selecting the hammer icon

at the top.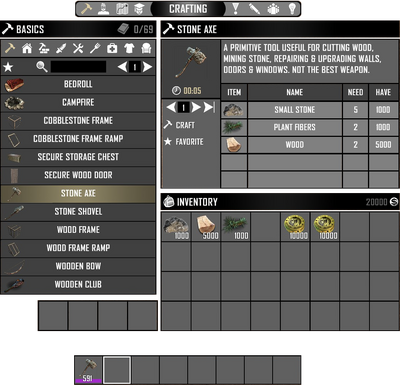 Components[]
The crafting menu has five major components: a list of recipes in the left-most pane, below that the crafting queue. In the center is the Examine space, where information is displayed when that item or recipe is selected, the Inventory space, which represents the player's pack, and finally, the player's toolbelt inventory space.
When accessing the crafting menu and before selecting any items or recipes, the Examine space contains the following verbiage:
[LEFT CLICK] TO INSPECT AN ITEM, RECIPE OR ACTIVE EFFECT
[LEFT CLICK] HOLD AND DRAG TO TAKE A STACK
[LEFT CLICK] TO DROP OR SWAP A STACK
[RIGHT CLICK] HOLD AND DRAG TO TAKE A HALF STACK
[RIGHT CLICK] TO DROP ONE ITEM AT A TIME
See Also[]