This article is a stub. For more information on what defines a stub, see Template:Stub.
You can help 7 Days to Die Wiki by expanding it.
The Football Stadium has a stand where people once watched football games. The field has the number '7' written in the middle, and the two endzones are named 'Survivors' and 'Zombies'. The Football Stadium can be found in Navezgane and Random Generated Worlds.
[

]
The Football Stadium is located next to the High School in the Plains at 1781 N, 405 W.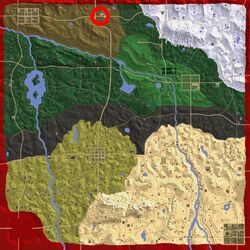 Loot
[
]
Large amounts of clothing can be found here by searching the locker rooms. Coolers can be found around the football field.

Camping
[
]
Survivors should consider setting up camp in either of the 2 locker room or the observation room on the top of the stage. Block of the entrance to the field and reinforce the front entrance with high level doors.
Bugs
[
]
*Due to it being by far the largest building in Navezgane conflicts with the framerate on console version when wandering around or returning to the Stadium can cause the game to crash. Removing cars and misc objects lessens the chance.