GTA: The Criminal Enterprises - The Loop
Play Sound
This article is a stub. For more information on what defines a stub, see Template:Stub.
You can help 7 Days to Die Wiki by expanding it.
Hotels are abandoned places that people used to stay at. There are currently four different Hotel POIs: Desert Hotel (smallest), Motel Eight, Days End Suites, and Ostrich Hotel (largest).
The Desert Hotel was the first to be introduced and currently has no identifying signage. It can be identified by its red tile roof, backyard pool, and canopied front entrance. Inside is a 3 stories tall lobby with reception desk, office, and decorative fountain. There are approximately 12 guest rooms spread out evenly across the three floors. The roof is partially flat but it has no loot and is not accessible without making modifications.
[

]
There are four Hotels.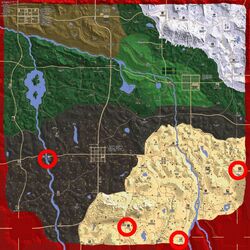 The Ostrich Hotel and Roadside Hotels can be found in cities, towns and rural areas. While New Hotels should theoretically spawn in Random World Generation, they have not been implemented yet.
There three types of hotels, New Hotel, Ostrich Hotel and Roadside Hotels.
| Prefab | Description |
| --- | --- |
| hotel_new_01 | New Hotel. Doesn't spawn in Random World Generation. |
| hotel_ostrich | The Ostrich Hotel. |
| hotel_roadside | Roadside Hotels, also named Days End Suites and Motel Eight. |
Images
[
]