m

 

(One intermediate revision by one other user not shown)
Line 1:
Line 1:
−

{{stub}}

 
 

{{Infobox locations

 

{{Infobox locations

 

|name =

 

|name =

Line 8:
Line 7:
 

|type =

 

|type =

 

|biome = [[Snowy Forest]]<br>[[Pine Forest]]<br>[[Plains]]

 

|biome = [[Snowy Forest]]<br>[[Pine Forest]]<br>[[Plains]]

 
+

|navezgane = Y

 
+

|confirmed_version = Alpha 15

 

|}}

 

|}}

−

'''{{PAGENAME}}''' is one of many [[Road]]s in [[Navezgane]].

+

'''{{PAGENAME}}''' is [[Road]] in [[Navezgane]].

 
 
 

== Location ==

 

== Location ==

−

'''''{{PAGENAME}}s location in [[Navezgane]]'''''<br>[[File:{{PAGENAME}} Map.png|500px]]

+

'''''{{PAGENAME}} location in [[Navezgane]]'''''<br>[[File:{{PAGENAME}} Map.png|500px]]

 
+
 
+

== Connecting Streets ==

 
+

From east to west

 
+

*[[Arrowhead St]]

 
+

*[[Riedel Ave]]

 
+

*[[Highway 73]]

 
+
 
+
 
+

== Points of Interest ==

 
+

Located along Jordaan Rd from east to west.

 
+
 
+

====Gun Store====

 
+

[[file:gunstore.png|400px|link=]]

 
+

*A [[Gun Store]] can be located to the east end of {{PAGENAME}} just west of the intersection of Jordaan Rd and [[Arrowhead St]].

 
+
 
+
 
+
 
 
 

[[de:{{PAGENAME}}]]

 

[[de:{{PAGENAME}}]]
---
Latest revision as of 22:00, 14 November 2016

Jordaan Rd is a Road located in the north central part of Navezgane.
Location
[
]
Jordaan Rd location in Navezgane

Connecting Streets
[
]
From east to west
Points of Interest
[
]
Located along Jordaan Rd from east to west.
Gun Store
[
]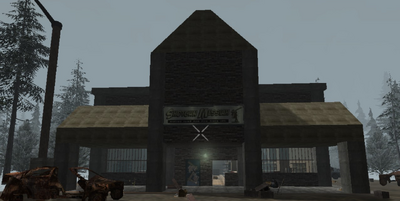 A Gun Store can be located to the east end of Jordaan Rd just west of the intersection of Jordaan Rd and Arrowhead St.