This article is a stub. For more information on what defines a stub, see Template:Stub.
You can help 7 Days to Die Wiki by expanding it.
Description
[
]
The Looting Menu activates when players manipulate inventory in various loot-able items such as boxes, crates, safes, Animals, zombies, etc, including loot-able/storage items the player has created.
From the Looting Menu, the player is able to access the loot-able item's inventory, the player's pack inventory, and also the player's belt inventory, all simultaneously. This enables the player to move items between any of the three locations in order to manage inventory.
In the image below, the player is accessing a secure storage chest.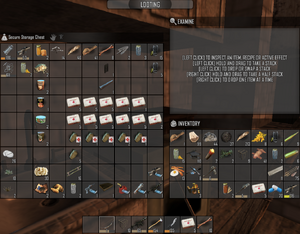 Components
[
]
The looting menu has four major components: inventory space of the item the player is accessing, the Examine space, where information about an item is displayed when that item is selcted, the Inventory space, which represents the player's pack, and finally, the player's Belt inventory space.
When accessing the looting menu and before selecting any items, the Examine space contains the following verbiage:
[LEFT CLICK] TO INSPECT AN ITEM, RECIPE OR ACTIVE EFFECT
[LEFT CLICK] HOLD AND DRAG TO TAKE A STACK
[LEFT CLICK] TO DROP OR SWAP A STACK
[RIGHT CLICK] HOLD AND DRAG TO TAKE A HALF STACK
[RIGHT CLICK] TO DROP ONE ITEM AT A TIME
See Also
[
]