Prefab Editor Export Import
Some items' or groups' chance to drop changes according to the player's gamestage. Here you can see those values for any gamestage you want using the little box below. Just type the gamestage you want in the box and press the Apply!-button. The values should change immediately, if the chance is different.
Current game stage:
1
This guide will walk players through minimal steps to export a Prefab from the PREFAB EDITOR in the EDITING TOOLS menu and import it into a playable game world such as Navezgane or a Random World Generation. The intended audiences are players that already know the basics of how to create buildings with blocks from the Creative Menu.
Guide how to import a prefab into a new/existing game world.
Note: These steps are for standard 7 Days to Die (Alpha 17 b240+) without any modifications on the PC/Steam platform.
Disable the EasyAntiCheat Setting
[
edit
|
edit source
]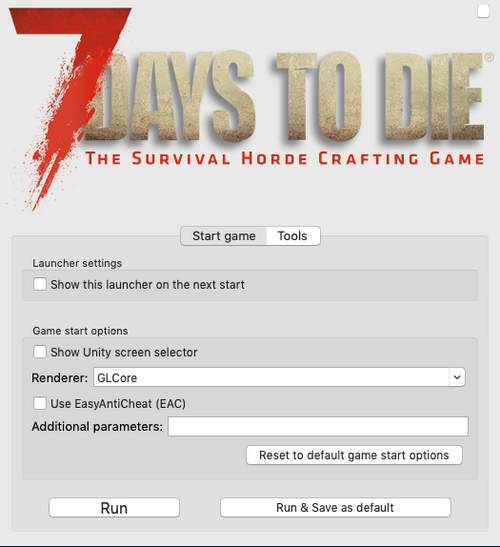 Start Steam and launch 7 Days to Die
Click on Show game launcher button from the Launch Options
Remove tick from the Use EasyAntiCheat (EAC) checkbox
Click on the Run button to start the game
Note: Disabling of EAC is required to save an imported Prefab
---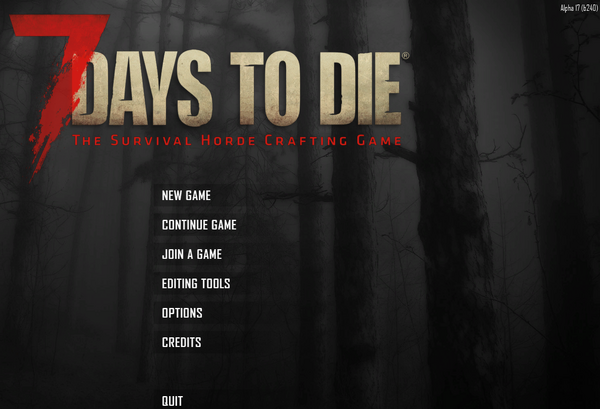 ---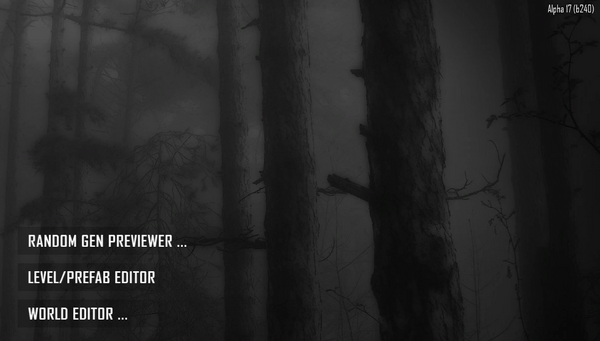 ---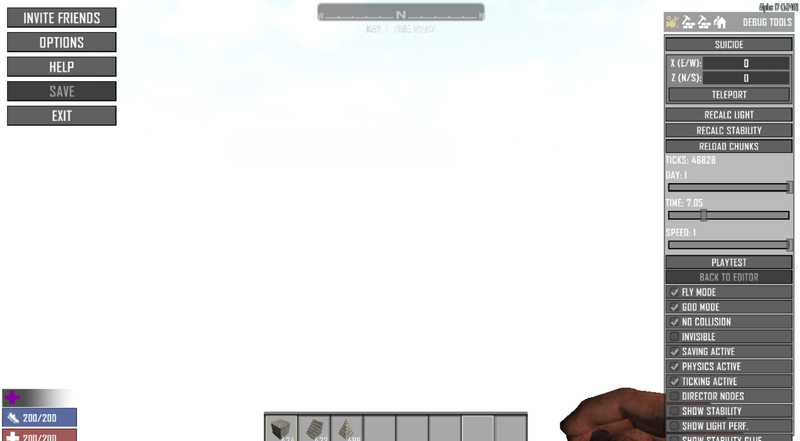 ---
---

Click on the LEVEL TOOLS 2 icon
Place a tick in the SHOW GROUND LEVEL checkbox
Press the ESC key to exit the DEBUG TOOLS
---
---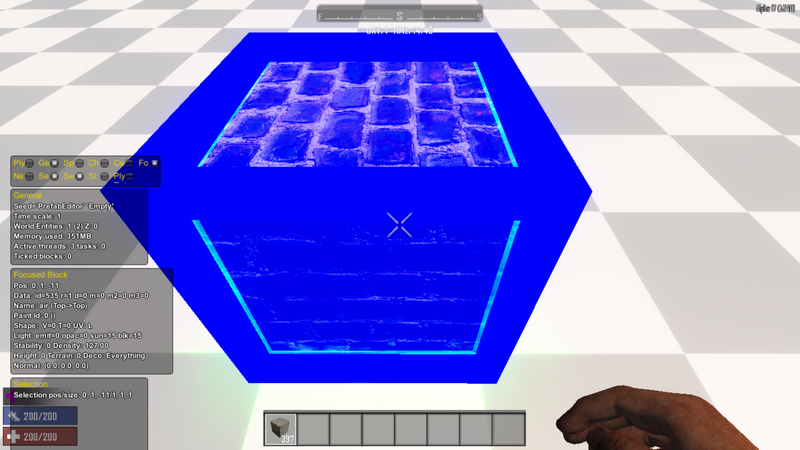 Press the 1 key to make the first block on the Toolbelt active
Press the Z key to start a selection
---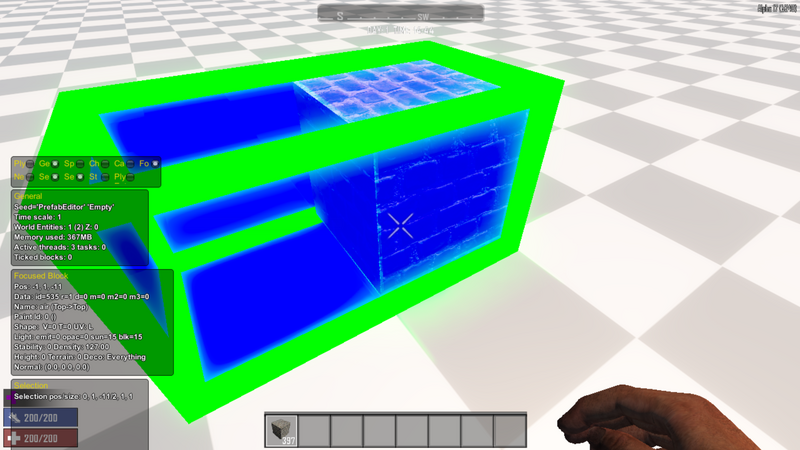 Move the cursor about one block east/right and press the Z key again to expand the selection
---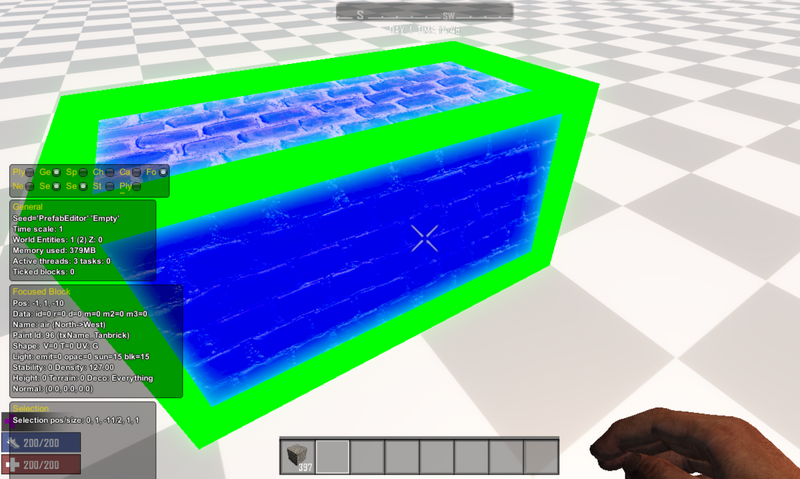 Press the L key to fill the selection with the current active block in the Toolbelt
---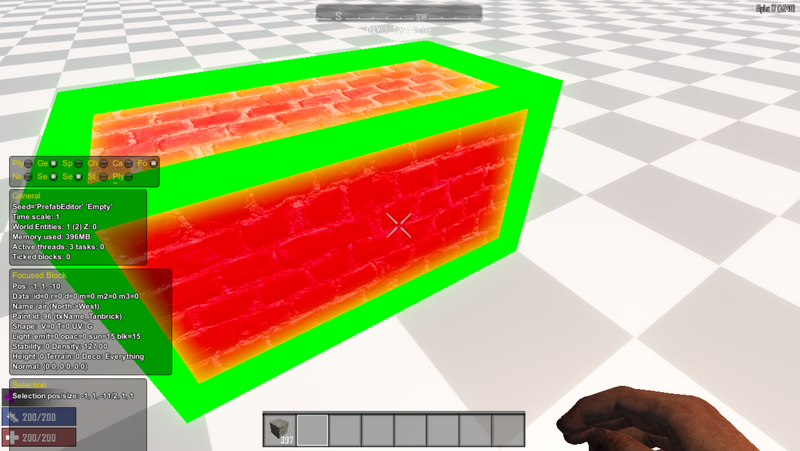 Press the CTRL+C keys to copy the selection
Press the SHIFT+CTRL+V keys to create a movable preview of the selection
---
Press the X key to rotate the preview
---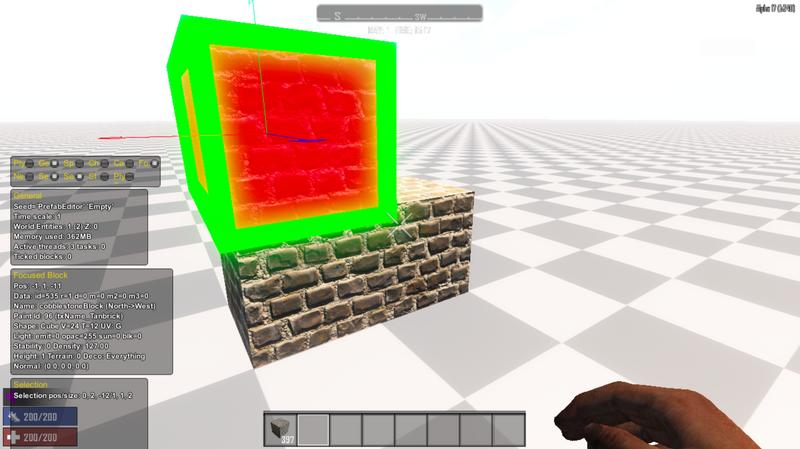 Press the G+SPACE keys to move the preview up
---
Press the SHIFT+CTRL+V keys again to place the moved blocks thereby ending the preview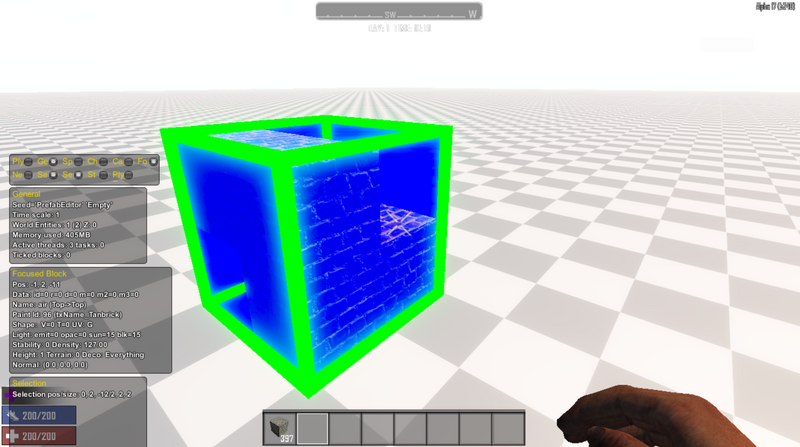 Focus the cursor on the corner block and press the SHIFT+Z keys expanding the existing selection to encompass all the placed blocks
---
Press the ESC key to open the DEBUG TOOLS
Click on the LEVEL TOOLS 2 icon
Place a tick in the SHOW BOUNDS checkbox
Click on the UPDATE BOUNDS button
---

---
Type in a desired Prefab NAME
Click on the SAVE button
Click on the EXIT button to quit the PREFAB EDITOR
Start a NEW GAME or CONTINUE GAME
[
edit
|
edit source
]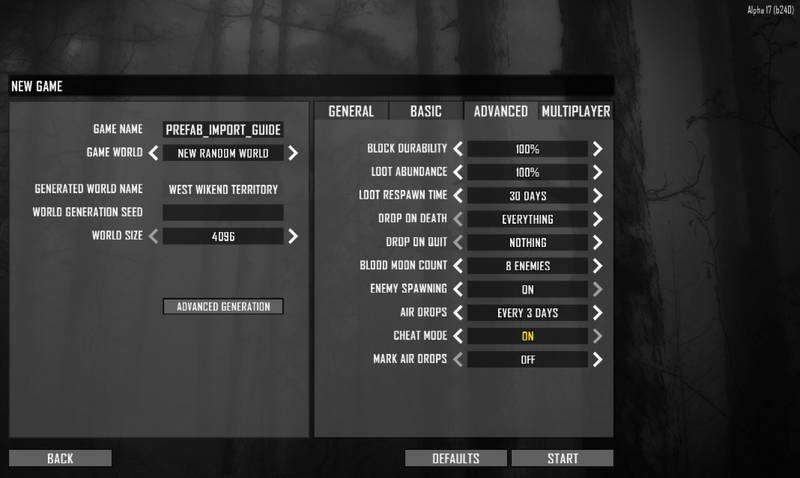 Click on NEW GAME or CONTINUE GAME from the Main Menu
Type a new GAME NAME or click on an existing game entry if continuing
Click on the ADVANCED tab
Click to set CHEAT MODE to ON
Click on the START button
Note: CHEAT MODE is required to be ON during Prefab import and may be disabled afterwards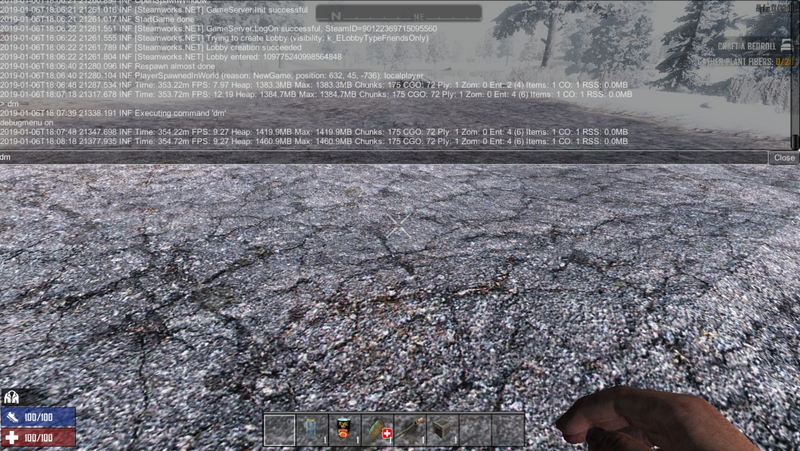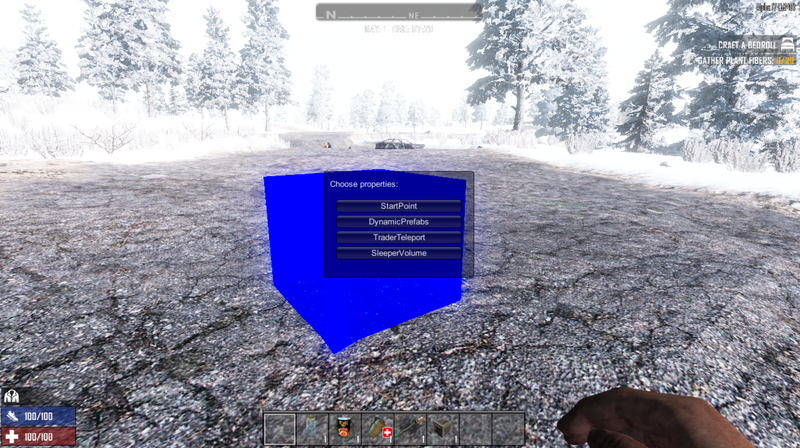 Find a fairly flat ground area
Press the Z key to select one block
Press the K key to open the Prefab Properties menu
Click on the DynamicPrefabs button
---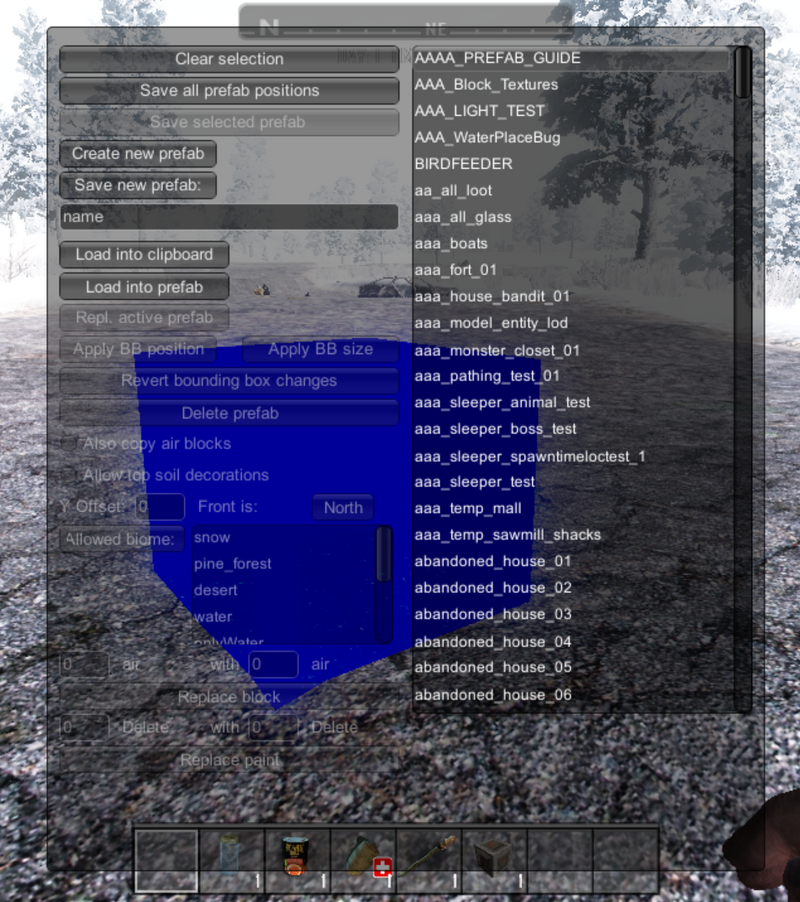 Click on the previously saved Prefab name from the list
Click on the Load into prefab button
---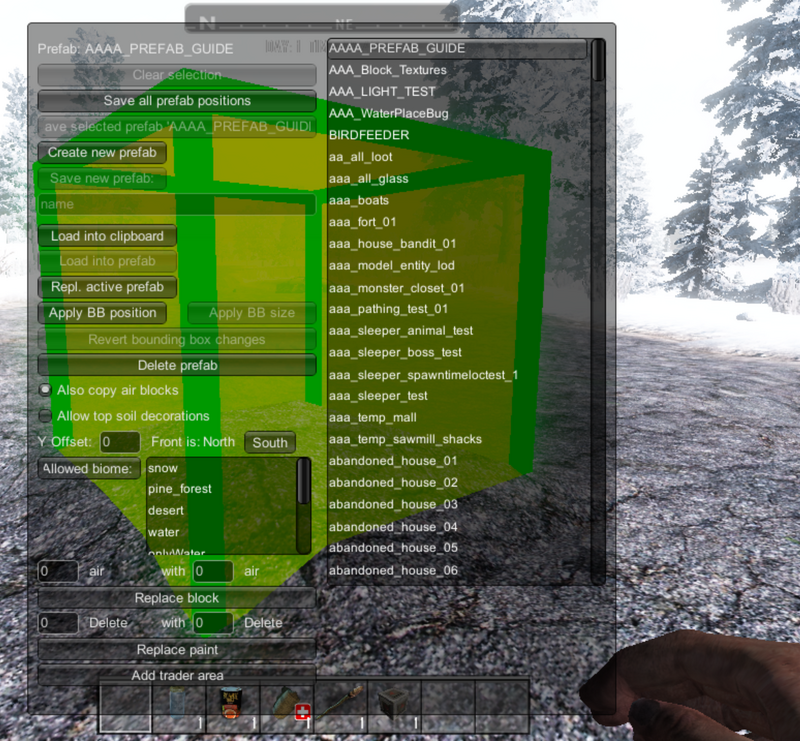 Press the K key again to open the Prefab Properties menu
Click on the DynamicPrefabs button again
Click on the Apply BB position button
---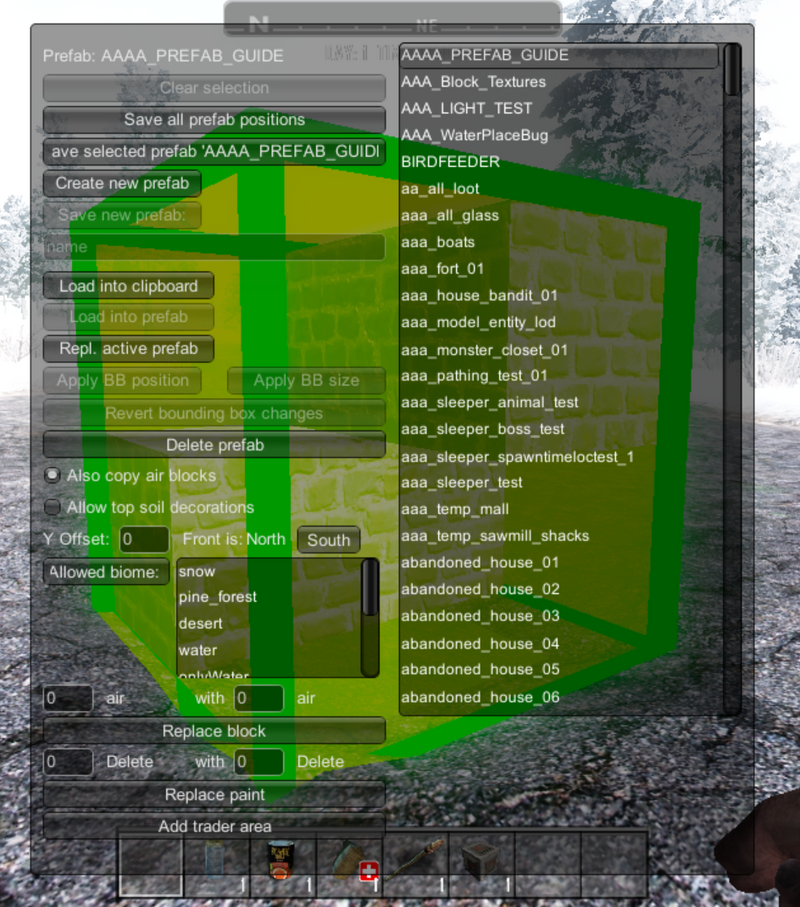 Click on the Save all prefab positions button
---
Press the ESC key to quit the DynamicPrefabs window
---
Press the ESC key again to open the DEBUG TOOLS menu
Click on the RECALC STABILITY button from the DEBUG TOOLS menu
Click on the EXIT button to quit this game world
---