Refrigerator
Some items' or groups' chance to drop changes according to the player's gamestage. Here you can see those values for any gamestage you want using the little box below. Just type the gamestage you want in the box and press the Apply!-button. The values should change immediately, if the chance is different.
Current game stage:
1
---
---
Refrigerator

"If food would ever spoil then it would be a good idea to keep it in here"
Basic Information
Removed: Alpha 17
Group
Category
Furniture
Type
Storage
Loot Container
Gear Slot
Covering Attribute
Block Properties
Hit Points
300
Storage Slots
24
Lockable
Horizontal Support
320
Mass
20
Light Opacity
Upgrades to
Breaks to
Weapon/Tool Properties
Entity Damage
Power Attack Entity Damage
Block Damage
Power Attack Block Damage
Range
Effective Range
Explosion Range Entities
Explosion Range Blocks
Attacks per Minute
Rounds per Minute
Reload Time
Ammo Type
Magazine Size
Stamina Usage
Power Attack Stamina Usage
Damage Multiplier: Earth
Damage Multiplier: Metal
Damage Multiplier: Stone
Damage Multiplier: Wood
Butcher Tool
Butcher Damage Multiplier
Butcher Resource Multiplier
Disassemble Tool
Vehicle Properties
Vehicle Speed
Vehicle Sprint Speed
Seats
Protection Properties
Cold Resist
Heat Resist
Waterproof
Armor Rating
Elemental Protection
Effect Protection
Mobility Reduction
Stamina Regen Reduction
Noise Increase
Consumption Effects
Effect on Fullness
Effect on Hydration
Effect on max Stamina
Effect on Stamina regen
Effect on Health
Effect on Max Health
Cures
Buff
Buff Effect
Buff Duration
Dysentery Chance (%)
Characteristic Properties
Durability (Min Quality)
Durability (Max Quality)
Degradation per Use
Mod Type
Compatible Mods
Repaired Using
Electrical Power Required
Unlocks
Base Price
Max Stack
Scrapping/Forging Properties
Scrappable
Scraps into
Meltable
Yes
Material
Iron
Combustible
Burn Time
Farming Properties
Crop produced
Seed used
Time to grow
Obtaining
Obtainable Through
Refrigerators can be used for storage and as decoration. A Refrigerator can hold 24 items. This item can be collected the fastest using a pickaxe for 2 Scrap Iron. However if you use a Wrench, a Refrigerator will instead yield Scrap Iron, Short Iron Pipe, and Electrical Parts. A Refrigerator can be repaired using Forged Iron. When placed it makes a sound like a refrigerator running.
At a Workbench
Required Materials

| | Quality 1 | Quality 2 | Quality 3 | Quality 4 | Quality 5 |
| --- | --- | --- | --- | --- | --- |
| | 10 | 15 | 20 | 25 | 30 |
| | 2 | 3 | 4 | 5 | 6 |
| | 8 | 12 | 16 | 20 | 24 |
| | 2 | 3 | 4 | 5 | 6 |
| [[File:|40px]] | | Expression error: Unexpected * operator. | Expression error: Unexpected * operator. | Expression error: Unexpected * operator. | Expression error: Unexpected * operator. |
| [[File:|40px]] | | Expression error: Unexpected * operator. | Expression error: Unexpected * operator. | Expression error: Unexpected * operator. | Expression error: Unexpected * operator. |
The list below contains the items and tools that may spawn inside a Refrigerator.
This loot container is the "bag" container that gets dropped when another loot container is destroyed.
Therefor it doesn't contain any items itself, only those items that were not looted from the original container before closing it.
These are the Loot Groups that are included in a Loot Container. The chance of an item appearing in any of these groups has been scaled based on the chance of that group appearing in the parent group. A group can also appear more than once if it has been included subsequently by another group, the chances in this case will then reflect all the parent chances. The quality of the items returned will be defined by the loot container quality levels unless it has been specifically defined for the group, in which case it will be listed beside the group.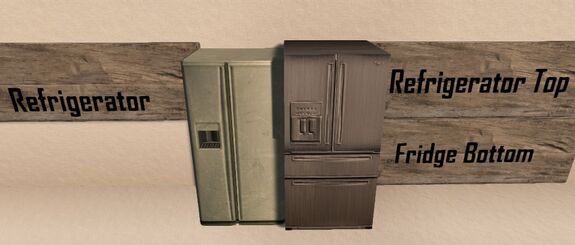 The difference between: