A Settlement is a specific layout of buildings, consisting of a gun store, a food store, and a medical supplies store. All buildings are surrounded by a metal fence. There is a large red and white water tower in the middle.
[

]
A Settlement is located in the Wasteland at 1095 S, 498 W.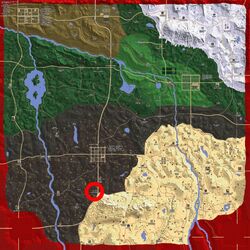 Settlements can spawn in cities, towns or rural areas.
Images
[
]
Quick notes: Inside the Gun store will be a vault made out of concrete and a vault door. Inside the vault will be a gun safe and 4 land mines set as traps.